Add yahoo Smileys on Blogger Posts – Blogger hack
In this Post I will help you to add Yahoo Smileys ( images ) to blogger posts . you might have noticed in many wordpress blogs there will atleast one Yahoo smileys . As we know expressions speaks more than words , with a single yahoo smiley we can express our mood. In wordpress this feature is build in. But unfortunately blogger doesn't have this feature. But here is an easy trick to add yahoo smileys to your blogger posts . if you just type the codes given below you will get yahoo smileys for that simple letters.
for example : if you type
:z you will get :z .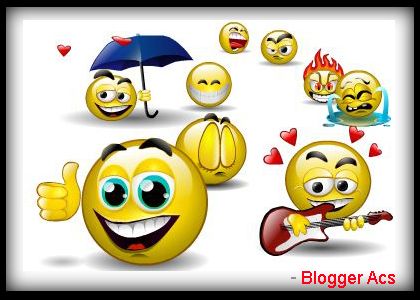 Just Follow this steps to add Yahoo Smileys feature to your blog.

Go to layout section of your blog , then go to Edit HTML section . Search for this following code </head> and add this Javascript before </head> .
<script src='http://wiigames2dl.googlepages.com/yahoosmileys.js' type='text/javascript'/>
that's it , here after whenever you write blog posts just add this yahoo smiley codes . For this simple letter codes you can see beautiful yahoo smileys .
troubleshooting : You Must give space before writing yahoo smileys code .
That's it we have added yahoo smileys code to our blogger blog .
See you soon with a new blogger hack.