20+ Small Yet Powerful Windows Application
Are you bored of using huge software which takes lots of disk space? Do you want to perform all your desired action but with less hard disk consumption ? If these are the questions going on in your mind then this would be the best post for you. Here is a list of smallest applications which are less than 1 MB , but they are more powerful and can perform all actions that Huge software would do. This tiniest software list is for all those old windows users who have very small hard disk. This software will be useful if you want to store more disk space as well.
20+ smallest windows applications
This is a list of smallest applications which are powerful enough to perform all the necessary actions that an huge software can do. Without making anymore fuzz i would like to disclose the list of software.
Process Lasso ( 610kb )
Process Lasso is a unique new technology that will, amongst other things, improve your PC's responsiveness and stability. Windows, by design, allows programs to monopolize your CPU without restraint — leading to freezes and hangs. Process Lasso's ProBalance (Process Balance) technology intelligently adjusts the priority of running programs so that badly behaved or overly active processes won't interfere with your ability to use the computer!




7ZIP (919Kb)
Let me start with my all time favorite software called 7zip. 7zip is the new archive format, providing high compression ratio. It's a best alternative for winrar or winzip which will occupy around 5MB space in your hard drive. But 7zip will occupy only 1MB space , and its more powerful than winrar too. It can extract data from any type of file formats including .bin , .iso , etc
The main features of 7z format:
Open architecture
High compression ratio
Strong AES-256 encryption
Ability of using any compression, conversion or encryption method
Supporting files with sizes up to 16000000000 GB
Unicode file names
Solid compressing
Archive headers compressing
FastCopy (194Kb)
FastCopy is a free open source software which is very useful for copying large files to CD or pen drive. Because Reading/Writing are processed with no OS cache at all, other applications aren't easy to become heavy. It can bring out Reading/Writing performance that is close to device limit. Include/Exclude Filter (UNIX Wildcard style) can be specified. It runs lightly, because MFC is not used. (made by Win32 API and C Runtime only). You can modify this software, because all source codes have been opened to the public in the BSD license.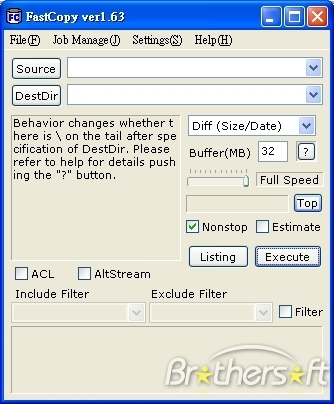 Windows File Unlocker (252Kb)
While you were trying to delete some files its usual that you get any one of these below warnings from windows.
Cannot delete file: Access is denied
There has been a sharing violation.
The source or destination file may be in use.
The file is in use by another program or user.
Make sure the disk is not full or write-protected and that the file is not currently in use.
FotoGrafix (370Kb)
Fotografix is an image editor that can be used for digital image enhancement, photo retouching and graphic design. As it is quite small and does not require installation, it can be run off a USB drive and hence can act as a substitute when other image editors are not readily available.

Everything (334Kb)
Are you tired of google desktop and microsoft's indexing tools? This little tool called everything will literally index everything on your computer in under a minute. This tool is not indexing the text of files, it simply indexes the file names and folders. It is quick, free, and handles expressions like *.mp3 or the like. Give it a try.




WinCD Emu (783Kb)
WinCDEmu is an open-source software that allows mounting CD/DVD images by clicking at the image files in Windows Explorer. It supports both Windows XP and Vista, is open-source and completely freeware.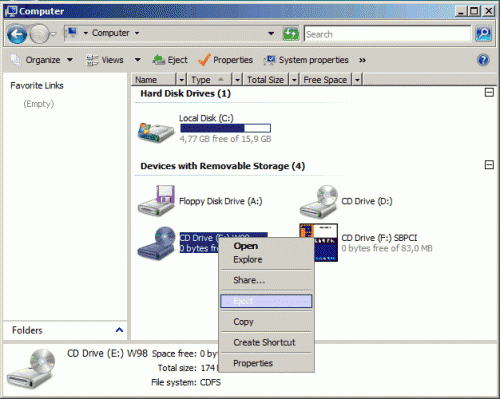 uTorrent (270Kb)
µTorrent is the world's most popular BitTorrent client. Most of the features present in other BitTorrent clients are present in µTorrent, including bandwidth prioritization, scheduling, RSS auto-downloading and Mainline DHT (compatible with BitComet). Additionally, µTorrent supports the Protocol Encryption joint specification (compatible with Azureus 2.4.0.0 and above, BitComet 0.63 and above) and peer exchange.




Evil Player (537Kb)
Evil Player is a fast, powerful and flexible media player for windows. Some of Evil Player´s key features include Shoutcast, Icecast and Icecast2 support, low memory footprint and native support for several popular formats (MP3, OGG, AAC, WMA, Flac and MOD).




CCleaner ( 1MB )
CCleaner is a freeware system optimization, privacy and cleaning tool. It removes unused files from your system – allowing Windows to run faster and freeing up valuable hard disk space. It also cleans traces of your online activities such as your Internet history. Additionally it contains a fully featured registry cleaner.




UltraDefrag (374Kb)
UltraDefrag is powerful Open Source defragmentation tool for Windows NT. It is very fast, because the defragmenting is done by kernel-mode driver. They are three interfaces to them: graphical, console and native. The GUI is very useful, because it represents your filesystem visually as a color coded cluster map. The console is another option for those that prefer the command line.




TinyPDF – Acrobat Alternative (590kb)
TinyPDF is free for both personal and commercial use and works on Windows 2000, Windows XP, Windows Server 2003, Windows Server 2008, Windows Multimedia Center Edition, and Windows Vista. It's a best acrobat reader alternative.




Tiny Spell (590kb)
Occasionally you need to check spelling in an application that does not include a spelling checker and you don't want to launch your word processor just for that. This is when tinySpell becomes handy. It is a small utility that allows you to easily and quickly check and correct the spelling in any Windows application. TinySpell can watch your typing on the fly and alert you whenever it detects a misspelled word. It can also check the spelling of text that you copy to the clipboard. TinySpell installs itself in the system tray for easy access.




Cinta Notes
CintaNotes is your essential assistant in the daily task of organizing information, such as your own thoughts and ideas, article excerpts, blog postings, quotes from famous people, research data, curious facts, Wikipedia entries, you name it.




ArsClip (986Kb)
ArsClip is a FREE (freeware) utility for the windows clipboard. ArsClip monitors the clipboard and keeps track of the entries. Press a configurable hotkey and select an item (or items) to quickly paste into a program. ArsClip used to be barebonez, but I think I can safely say that it has become a nicely featured program (due to user requests for changes). ArsClip remembers the last 15 (default) or more text entries entered into the Window's clipboard and can be configured to monitor non-text items. Delphi 6 (Personal) source code is included – modify it freely for any non-profit use.



Green Shot (160Kb)
Greenshot is a revolutionary screenshot tool optimized for productivity.
Save a screenshot or a part of the screen to a file within a second.
Apply text and shapes to the screenshot.
Offers capture of window, region or full screenshot.
Supports several image formats.
i.Ftp (838Kb)
i.Ftp is a little graphical FTP/SFTP client, which does what I need in an FTP client without the size and fuss. i.Ftp is designed to work from portable media like USB keys as well. It doesn't store anything in the registry and will find it's resource files and options via relative paths. A full install is about 900kb so it doesn't eat up much space on your portable storage. If you don't need SFTP support then you can delete libssh.dll and libeay32.dll to make it even smaller!




Space Sniffer (863Kb)
SpaceSniffer is a freeWare (donations are welcome) and portable tool application that lets you understand how folders and files are structured on your disks. By using a Treemap visualization layout, you have immediate perception of where big folders and files are placed on your devices. Treemap concept was invented by Prof. Ben Shneiderman, who kindly permitted the use of his concept into this tool.

GMail Notifier Plus (985Kb)
Get notified of all your emails coming to your gmail account. It's a powerful application which am using to get notified instantly.

DiskCryptor (740Kb)
DiskCryptor – fully open solution to encrypt all partitions, including system. The program is a replacement for proprietary DriveCrypt Plus pack and PGP WDE.


VirtuaWin (385Kb)
VirtuaWin is a virtual desktop manager for the Windows operating system (Win9x/ME/NT/Win2K/XP/Win2003/Vista). A virtual desktop manager lets you organize applications over several virtual desktops (also called 'workspaces'). Virtual desktops are very common in Unix/Linux, and once you get accustomed to using them, they become an essential part of a productive work flow.




Hope you guys like my collection of softwares and you will agree with me that these software are really powerful enough to perform few necessary tasks. If you know any other good software then let me know.