10 Best Apps For Remote Printing
Break free from the confines of conventional printing with these 10 outstanding remote printing apps. Access just about any printer in the world, wherever you are, using your desktop, laptop, iPhone or BlackBerry. These easy-to-use remote printing apps are invaluable in many situations: use the printer upstairs without running a great big wire through your house; print off a document from your phone or laptop when you're on the train or at a meeting; or print a document in an office in Beijing from the comfort of your kitchen.
Remote printing not only saves you time, it saves you money. Now you can share one printer between hundreds of people and their respective computers and smartphones. You can also circumnavigate the laborious and costly fax process by sending documents directly to printers rather than to fax machines. Most of the remote printing solutions explored below are inexpensive and some are completely free!
1. Remote Print
Remote Print is a great app for your BlackBerry which lets you print documents at home or in the office while you're out on the move. For it to work, you'll need to buy the Remote Print BlackBerry app ($7.99) and install a lightweight app on your computer too. Quick and easy to use, you can receive an email and print it off in just 3 clicks. You can also send files directly to your PC from your phone. With Remote Print, you can connect to as many computers as you like, printing off any number of printers installed on those machines.
2. Cortado Basic Print
Cortado Basic Print ($39.98) makes printing photos, images and text from your BlackBerry very simple indeed. Emails, appointments and contacts are transferred via Bluetooth to any Bluetooth enabled printer in the vicinity of your phone. Because Bluetooth is used, no internet connection is required, but this does mean you're limited to using printers you're more-or-less in direct contact with, which is a significant downside.

3. Print Magic
iPhone users need not feel left out. Unsurprisingly, there are several apps available that will let you print remotely from your iPhone or iPod Touch. Print Magic ($6.99) lets you print documents, photos, web pages and more. You can even print text or images copied from other apps! You don't have to install any software on your computer, which really is magic. Simply ensure Printer Sharing is enabled via the Sharing panel in System Preferences and away you go.

4. Print & Share
Print and Share (£3.99) is another remote printing app for the iPhone. It's trickier to get to grips with than Print Magic, but is far more reliable and superior in almost respect. With Print and Share, you can print emails, contacts, documents, web pages and much more on any printer you've made accessible via its free sister programme WePrint.

5. HP iPrint Photo 2.0
HP iPrint Photo 2.0 is yet another remote printing app for the iPhone, but unlike the two above, this baby is free! Take a photo with your (less-than-ideal) iPhone camera, or choose an image from the web or elsewhere, and print it out on a compatible HP inkjet printer. To save you time and hassle, the app automatically detects compatible printers on your wireless network. iPrint Photo does have some major drawbacks however: it only prints 4x6inch photos, not web pages or documents.

6. PrinterShare
You can use any printer in the world with PrinterShare (free), whether it's located on the other side of the office or the other side of the world. You can also choose to share your own printer with other people so they can print documents on your machine too, negating the need for a fax machine in most instances. Share or stop sharing individual printers at the touch of a button and confirm every print job before it's processed, saving you precious paper and ink!

7. Net2Printer
Net2Printer makes using any printer in the world (so long as it's connected to the internet) as easy as using your local machine. It overcomes all problems associated with emailing documents, which include incompatible software and uninstalled fonts. Net2Printer is highly customisable: you can create groups to print on multiple printers in multiple locations simultaneously; print at scheduled times and delete files on recipients' PCs are printing. Net2Printer is free to download, but costs $49.95 per year to use.

8. TPC Fax (The Phone Company's Remote Printing Service)
TPC is a free and wonderfully simple online tool which makes sending faxes as easy as sending emails. Fax from any web browser, whether it be on your desktop, laptop of phone. You don't even have to install any software! You can send a fax directly from your browser by entering a fax number and message into two online boxes, or send a fax by email using the specific email address format provided.

9. LogMeIn
LogMeIn is much more than just a remote printing app. Installed on 70 million devices worldwide, it provides a range of solutions for remote control, file sharing, systems management, data backup and business collaboration between PCs, Macs, servers and smartphones. At its simplest, LogMeIn can be used to access your computer remotely from any other computer or smartphone worldwide, allowing you to print documents on your home or office printer whenever, wherever.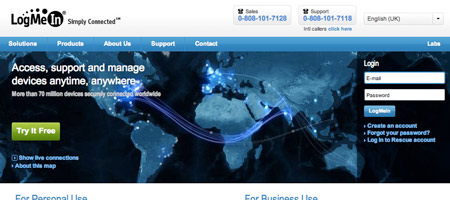 10. GoToMyPc
GoToMyPc lets you access your computer remotely from any web browser on any platform, be it a PC, Mac, iPhone or BlackBerry. Like LogMeIn, but less comprehensive and so much easier to use, GoToMyPc can be used to print from any configured computer, as well as access all your files, programmes and emails, so you can work on your office computer at home or your home computer at the office! Other similar programmes include I'm In Touch and TeleDesktop, but neither of these can be used on Macs.

About The Author
Tom writes about print design and technology for the UK's leading supplier of Hewlett Packard toner cartridges, ink cartridges, paper and other printing accessories. You can read his latest work on their blog, CreativeCloud.